Betway eSports Review
Betway is a famous eSports bookie released in 2016. And by the time of 2023, it has already managed to build an entire empire. But how? With the biggest eSports games; the most anticipated tournaments; unique betting markets, and precise odds. And, of course, refreshing bonuses and promotions.
In today's Betway review, you'll take a deeper look at all of these eSports betting aspects. You will know what games you can bet on and how exactly you can do it. And by the end of this page, you will learn everything you need to get started at Betway.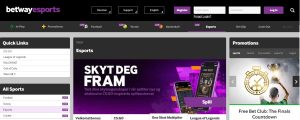 Main Characteristics of
Betway
Availability
Betway eSports: Games and Betting Markets
Betway bettors have access to the most popular eSports games. Their list includes different genres: MOBA games, tactical shooters, strategies, and more. Here is a short description of some:
Dota 2. This is a MOBA game that urges players to incorporate both strategic thinking and sharp mechanical skills. Competitors are parted into two teams of five players. And they will have to battle on the huge map with three lanes. They must distribute their strengths across these lanes and get gold. Once they do, they will come together and fight for game objectives. While the final one is the enemy's throne: if it is broken, the team wins;
CS:GO. This is the most popular first-person shooter in the world. It also has two teams of five players. And the objective of each is to win 16 rounds first. To do that, they compete within rounds. To win a round, a team must eliminate all opponents or complete the objective (plant/defuse a bomb, save/protect hostages);
StarCraft 2. This game is the father of all RTS (real-time strategies). In traditional matches, two players compete while commanding a certain fraction. They reside on a huge map where they must build functional facilities (barracks, resource-gathering units, etc.) and create an army. To win a game, a player must use military forces to destroy an opponent's base.
Betway.com provides its clients with many betting markets for these and other games. They are very different and can suit any gambler's skill and odd demands. Take a look at them:
| | |
| --- | --- |
| Match winner | Use this betting market to predict who wins a single eSports match (don't confuse it with a map). It is an excellent market for starters because it is easy to predict. However, the odds for it are pretty moderate. |
| Map winner | If a match is parted into maps (BO3, BO5, BO7), you can predict who wins one of them. Often, this bet type is put in the live-betting mode. So you can place it a few minutes after the game starts. The odds for it are also mediocre. |
| Outright winner | Use an outright winner if you are ready to bet on who wins an entire tournament. This one is for skilled bettors. You need to know and track competitors very well to pull it off. But if you do, you are going to be rewarded with money-pouring odds. |
| Handicap | This bet type is implemented when teams are unequal in strengths. When there is a handicap, a weaker team has a reduced requirement for your wager to win. For example, if you bet on the weaker team, it doesn't have to get three map wins (in BO5 conditions) – it should just win 1 map. How hard these conditions are changed depends on the gap between teams' skills. The odds for the handicap should be approximately equal too. |
| Over/Under bets | Any eSports game has some kind of score to count. Betway allows you to predict this score, choosing if it goes over or under a given number. For example, a bookie gives you a number of 50 total kills during a Dota 2 match. And so you can predict if the total amount of map skills will be higher or lower than that. The odds for over/under are rather balanced. |
| Game-specific markets | These types of bets allow you to wager on unique events specific to certain games. For example, you can bet on which player scores the first blood in Dota 2. Or how many times will the bomb explode during a CS:GO match. As such events are hard to predict, you can expect their odds to be high. |
With so many bet types, Betway users can make multiple games per game. It allows them to win more money and train their wagering skills. You are also never bored with betting at Betway. Choose a new bet type, and you have a new bookie experience.
Live Betting and Streaming
What is also very good at Betway is a live betting section. It has preserved most of the bet types discussed above. So you can make them before and after the game/event starts. However, remember that the odds are constantly shifting when live betting. Even a single elimination can drastically decrease the profitability of your bet.
You can track all of that on the Betway website through live streams. They are available on the event betting page after the game starts. In fact, they show a very stable performance and are a better substitute for Twitch and YouTube.
Betway Betting Odds and Limits
Betting odds remain the most important aspect for Betway. They strive to make them as precise as possible. To do it, they engage eSports analysts. Their job is to make a thorough pre-game/event analysis to predict the game accurately. Hence when using Betway, you can be sure that you are getting the exact payout that you deserve.
Regarding Betway limits, they differ. There are many driving factors for their change: odds, betting lines, events, etc. But for most of you, odd limits for Betway bets will not be noticeable. Unless you plan to make huge bets for tens of thousands of dollars.
Betway Bonuses and Promotions 2023
There is a comprehensive choice of Betway bonuses and promotions available to its clients. With their help, you can regularly loot rewards like bets for free and match deposits. At the moment, Betway features two eSports promos, represented as clubs:
| | |
| --- | --- |
| 🎁 Free Bet Club | Place at least 25 euros in accumulators during the week, and you will receive 10 euros of Betway free bet bonus. They will be credited two times: for 5 euros each. But remember that you must use bonus funds within 30 days. Or they will be deleted. |
| 🎁 Esports Club | An Esports Club does the same as Free Bet Club but works just for eSports bettors. It will also give you 10 euros in two portions each week. And to activate it, you must bet at least 25 euros during the week. Their expiration time is 30 days too. |
| 🎁 Bonus Codes | Bookmaker allows its users to use bonus codes to get rewards. Betway promo codes are found on gambling-related websites and social pages and can be sent to your email. Insert them in your profile page to get free (potentially Betway no-deposit bonus) bets. |
Remember that those are just the bonuses available at the moment. There are regular dispatches of new Betway promotions. If you plan to gamble at Betway eSports, you can expect to see many more.
Welcome Bonus Especially for eSports Bettors
The bettors who are starting out can take advantage of Betway Welcome Bonus. This profitable bonus gives you 10 euros. To get them, you must choose an eSports Sign-Up Offer during the registration and deposit 10 euros. Afterward, you will instantly get your bonus cash.
You can wager obtained 10 euros on any eSport. But you need to do that within 7 days after receiving free euros. If you are late, they will disappear. Also, this Betway bonus has no wagering requirements. So you can withdraw it after your first bet. However, you can't win more than 20 000 euros with it.
Betway Mobile Review
If you plan to access the website from your phone, you will be pleased with its mobile version. Betway mobile is compatible with any gadget that supports browsers and HTML technology. And that is literally 99% of phones people own in 2023.
When you launch Betway from your phone, the betting site will automatically adapt to your display. It will put the buttons in convenient places and cut excess power spending. This facilitates the handy and stable user experience of the site. But if you want to boost those elements to the next level, consider the app.
Bookmaker App
Owners of iOS and Android devices can download a Betway app. It is installed through the Play Market and App Store.
The Betway app runs more consistently than the browser version. And the reason for that is its comprehensive optimization. Betway has considered all the modern gadgets and adjusted app settings according to the most popular ones. It has significantly improved its performance. On the contrary, the performance depends on your browser when you use a mobile version.
But remember that the app takes up to 40 MB of your gadget's space. That memory requirement is quite manageable. But if you can't install the app, just use the mobile version.
Betway Payments: How to Deposit and Withdraw Funds
Getting cash in and out of Betway is easy. To do that, you can use numerous payment tools. They can be roughly divided into two categories:
Credit/Debit cards: Visa and MasterCard;
E-wallets: Skrill, Neteller, PayPal, Trustly, etc.
The minimum sum you can deposit/withdraw per transaction with those methods is 10 euros. For the maximum limits, withdrawals don't have them. However, following responsible gambling principles, Betway puts limits on deposits. They range from 25 to 2500 euros daily (or your custom limit above 2500). You can change them yourself during registration or on your profile page.
Depositing Process
Here is how you put the obtained knowledge into practice to deposit funds to your Betway account:
Log into your Betway profile;
Access the deposit tab;
Inspect available payment tools and choose one you prefer;
Indicate the sum to withdraw;
Verify the payment following a given instruction;
Wait for the money to arrive.
Don't panic if you don't see an updated balance immediately. You can expect the processing to take at least 15 minutes. While credit/debit card deposits can even take the entire day sometimes.
Withdrawing Process
Now let's see what you do when you have won a couple of bets and want to get this cash off the Betway:
Ensure you are logged into your account;
Check if you have at least 10 euros (min withdrawal amount);
Access the withdrawing page;
Indicate how much money you want to withdraw and proceed;
Wait for the funds to arrive.
Betway withdrawals are processed even longer than deposits. Betway managers review each, so they know no fraudster is trying to steal your cash. The whole withdrawal process takes up to 24 hours.
Betway Customer Support
To help its customers with any of their questions, Betway implements a customer support system. You can contact it using a [email protected] email.
It doesn't matter how challenging your problem is. Once you write a letter in the given email, your case will be instantly delivered to the capable manager. Then, he will review it in the shortest terms and reply (up to 1 day). Describe your issue thoroughly to avoid writing additional messages and wasting your time. Don't be shy to include even minor details.
But if your problem is insignificant, you can often solve it via the Betway help center. It has answers to most general questions.
Reliability and Security of Betway Bookmaker
Betway eSports bookmaker is an entirely legitimate website. It has operated since 2016 and has paid out thousands of euros to various bettors. You can ensure that by using bookie-reviewing websites. There you can read hundreds of bettors' Betway reviews.
Is Betway Legit to Bet On?
However, if you seek something more concrete to prove Betway is legit, then look at its license. According to online betting rules, the platform exposes all its registration and licensing info. Betway was licensed and is now regulated by the Gambling Commission in Great Britain. Its license number is 39372.
The rest of the legal info found on the Betway website proclaims its registration data. The company is Maltese, registered at 9 Empire Stadium Street in Gzira.
Registration and Login
Anybody can register at Betway in a couple of minutes. It will look the following way if presented in a step-by-step fashion:
Locate and press the "Register" button in the upper website section;
Select an eSports welcome bonus;
Give your personal details;
Devise the account information (login, password);
Give contact details;
Read "Terms and Conditions" and put a checkmark in the box agreeing with them;
Press the big "Registration" button at the bottom to finish.
Once done, you will be automatically logged in to your new account. And if you need to do it again, use your devised Betway login and password.
On your profile page (accessed by clicking on your nickname), you can do a few things:
Deposit/Withdraw;
Check out your recent bets and payments;
Examine open bets and pending payments;
Access a help center.
There is also a handy balance display on your profile. It shows your regular, bonus, and next bet split balance.
Our verdict about Betway bookmaker

Register here
So, what can you see from this Betway review? The platform delivers a full-fledged eSports betting experience. It has plenty of game disciplines. All of them have been featured in their most anticipated tournaments. But regardless of the event scale, the amount of betting markets and their odds precision are at the top. And what's best is that you can juice all that with a Betway deposit bonus free of wagering requirements. Just make sure to choose an eSports one.