Rivalry eSports Review
Esports betting is an activity that brings something more than simple momentary joy. Placing a bet, seeing it go through, waiting for the golden moment, and seeing your victory on a screen is incomparable. Little else can offer one the feeling of utter success and happiness as a successful bet. That is where Rivalry bookie can take you.
The odds of that happening are very high, but it depends on bookmaker type. It is where our reviews come into play. Our experts review sites that are both very popular and obscure. We provide a platform for punters, so they know which site to choose for their requirements.
And now, we will review Rivalry, one of the up-and-coming sites taking the eSports betting world by storm. We will determine whether the bookie is worth the hype, its offers, the pros and cons, and more.
Choosing the right bookmaker that will allow bettors to place a viable bet is a crucial aspect of betting online. That is why we are responsible for providing our customers with an unbiased opinion about every betting site we review. Read below to learn more about Rivalry, the website that can make or break betting on eSports.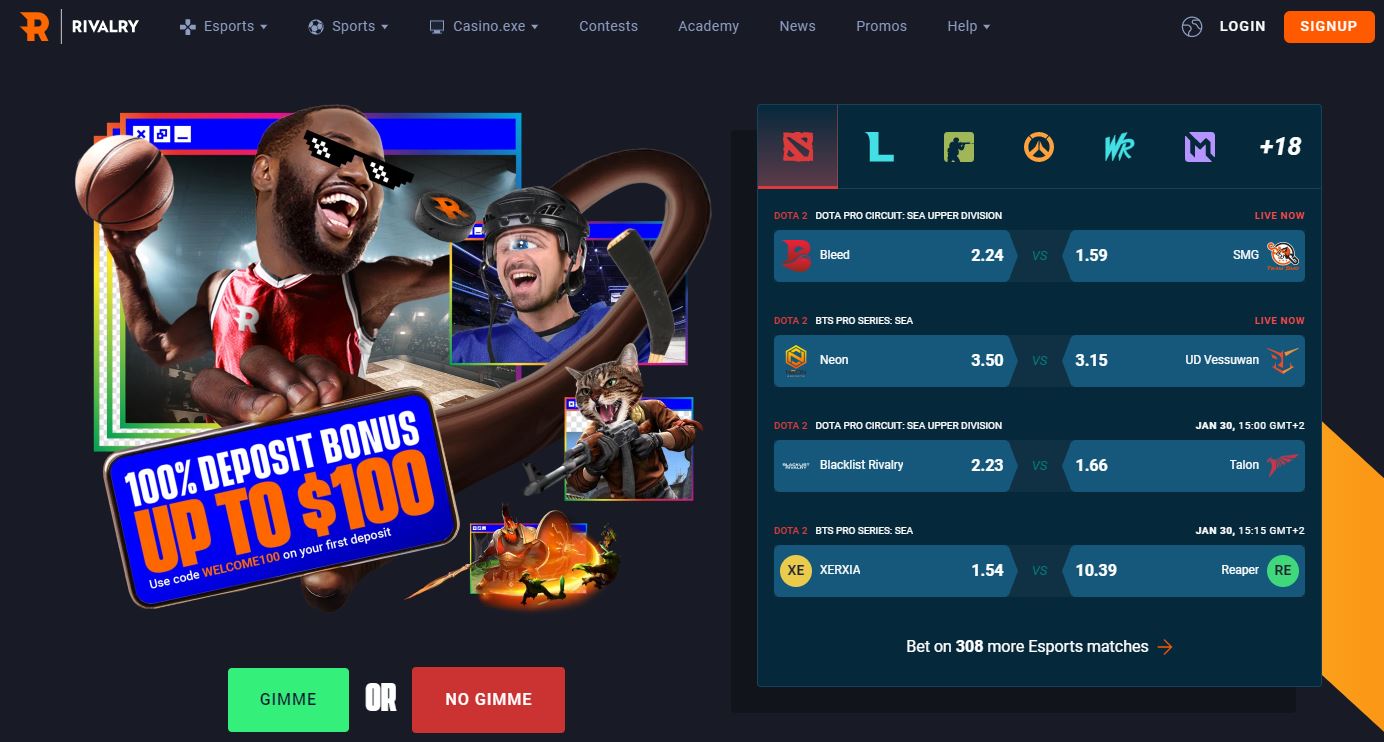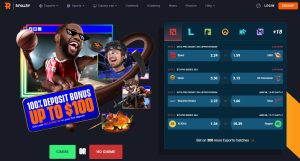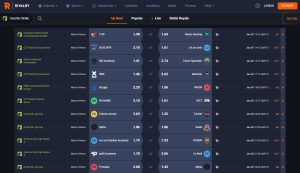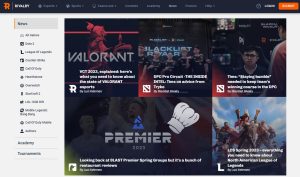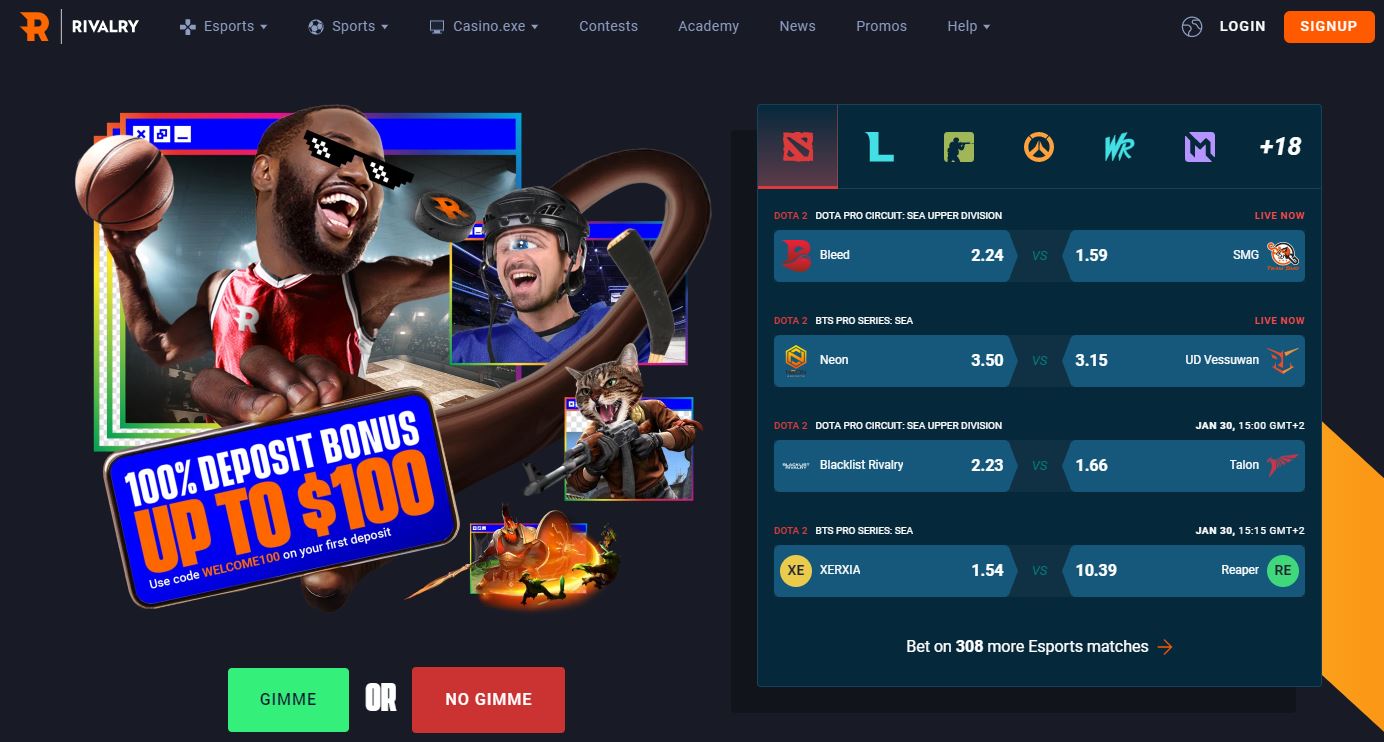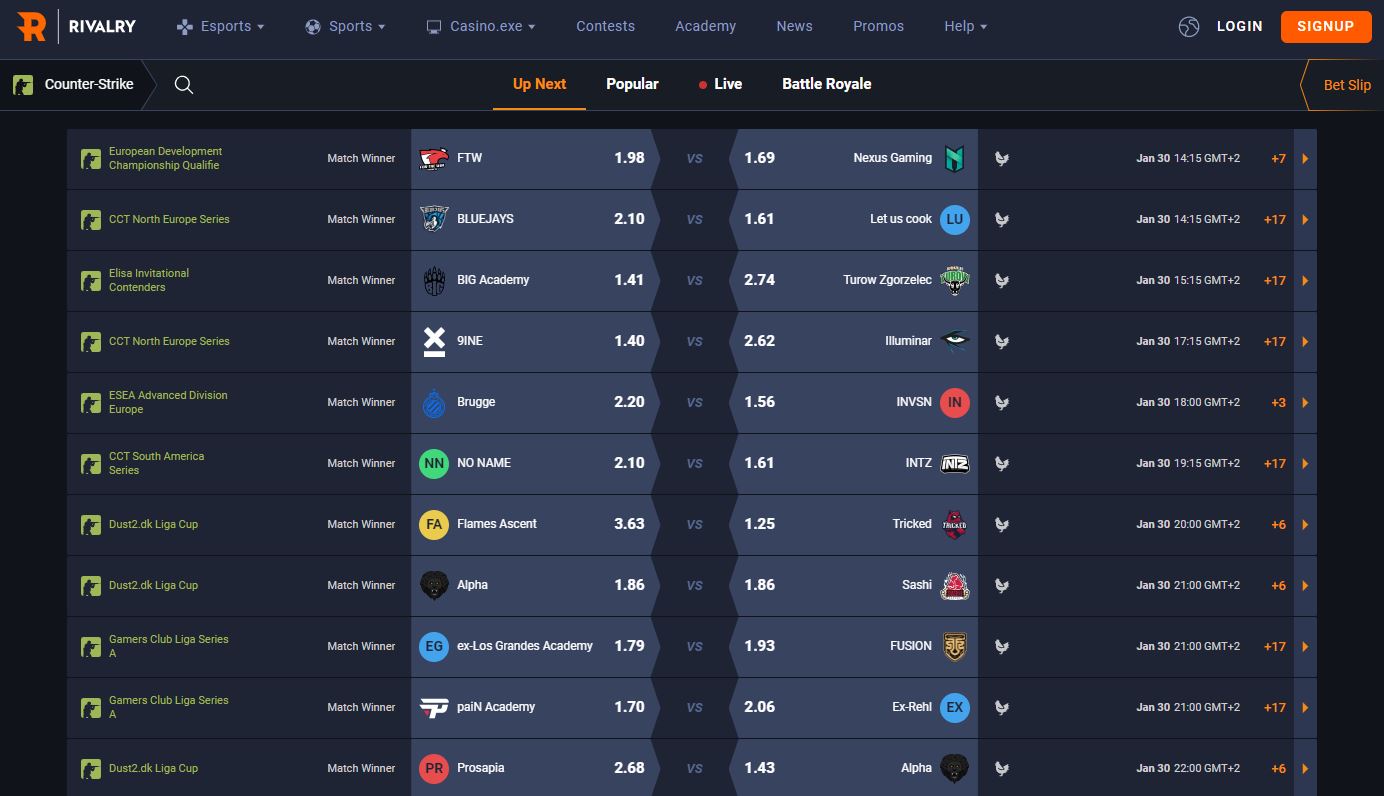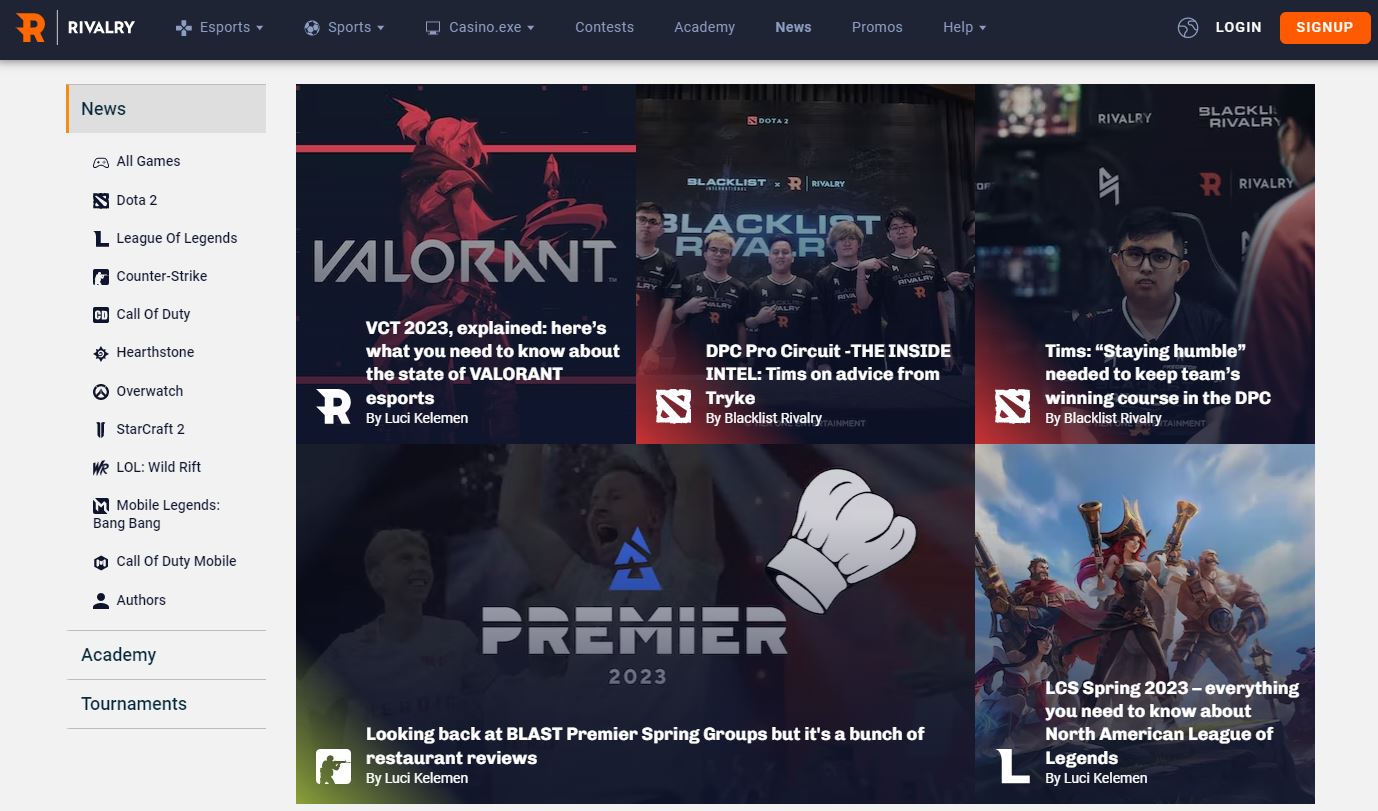 Main Characteristics of
Rivalry
License
Man Gambling Supervision Commission
Availability
Rivalry eSports: Games and Betting Markets
A giant like Rivalry betting is bound to offer some of the best eSports betting options. The bookie holds up their end of the bargain by giving punters a chance to bet on the famous gaming names in the market. Regarding eSports bets at Rivalry, you can expect a massive range of titles. You can bet on either groups or individual players.
Sate your thirst for bets on Dota 2, Counter-Strike, Rainbow 6, Valorant, and more. Yes, you read that right! Rivalry Dota 2 is probably one of the busiest betting wars on the site. Bettors can choose up to 20 games on which to place bets. So, you will be spoilt for choice if you decide between League of Legends, StarCraft 2, or Free Fire at Rivalry.
When choosing a market, you get four types of eSports bets – lines (handicap and money), totals, and prop bets. Professional bettors can easily decide which wager will give them the most bang for their buck.
Live Betting and Streaming
Rivalry eSports promote live betting heavily and for good measure. If you want to make a bet that requires a lot of strategies to guarantee a win, then this is the right choice. You can easily find the eSports section on the Rivalry sportsbook, where you can locate multiple live streaming options.
You can bet on live-streaming tournaments or matches based on statistics. All you need to do is check out the individual player's or team's statistics and place a bet accordingly. The statistics will help you decide whether you want to place a wager on your favorite who has the potential to win and help you eventually win the game.
Academy and eSports News
You can visit Rivalry.com and find the Academy option below the banner head of the website. The Rivalry Academy offers viable (including through video) for a beginner. This page provides detailed explanations of every stake and more. Get regular updates, punter data, and more on Academy.
Rivalry eSports News provides updates and news on the hot players and teams. It helps to improve further and capitalize on your eSports betting experience.
Rivalry Betting Odds and Limits
When betting at the Rivalry website, keep in mind that the odds here are average. Some markets pay slightly poorer odds, while others may gun for more. You are unlikely to receive more than the going rate for your bets.
As for the limits, the amount is subject to change based on individual preferences and the frequency of the user's bets. The limit for a minimum bet is $0.50, and the maximum bet limit is $500 for pre-match bets. For live bets, the maximum bet limit is $250.
Rivalry Bonuses and Promotions 2023
Talking about the Rivalry bonus and promotions, our reviewers were quite disappointed. Acquiring the welcome bonus cash can be tricky unless you wager odds on eSports often. You can also go for other Rivalry eSports promotions. The Quest, for instance, is a twice-weekly competition that offers punters the opportunity to gain XP. Users can move up or down the rankings to earn a cash prize between $5 to $125. The top 30 players in every match are eligible for this prize.
Welcome Bonus Especially for eSports Bettors
If you are signing up on Rivalry for the first time, you are eligible for a welcome bonus of a 100% Matched Deposit bonus up to a maximum of $100 when you make your first deposit. You must make a minimum deposit of $15 to receive the reward. You must unlock the bonus by wagering five times the first deposit before it expires after 30 days of receiving it. You can use the Rivalry promo code – WELCOME100.
Rivalry Mobile Review
We are glad to report that the Rivalry sportsbook provides a superb service on the mobile betting site. Instead of cluttering the page with too much information, options are tucked inside broad headings of betting types and titles. Nor will you come across any extra or unnecessary data.
The interface is simple and offers news that is up to date. You can easily navigate the site and choose what you want on Rivalry.
Unfortunately, Rivalry has no mobile app yet. However, the desktop and mobile versions are enough for a punter's betting requirements. All you need to do is visit rivalry.com, and you are good to go.
Rivalry Payments: How to Deposit and Withdraw Funds?
One of the most crucial aspects great betting platform is the type and number of transaction methods it provides users. In the case of Rivalry.com, we are happy to report that the sportsbook offers users multiple ways to withdraw and transact money. The bookie prides itself on offering fast payouts, multiple payment options, and its support of diverse currencies (including USD, EUR, CNY, PHP, ARS, AUD, PEN, and BRL).
Deposit methods are:
Bitcoin
Skrill
Neteller
PayPal
Visa
Master Card
Phone Pay
AstroPay
Depositing funds in your Rivalry eSports account has never been easier. Follow the steps below, and you are good to go:
Step 1: Go to the the Rivalry site and click on "deposit" on the top-right corner of the homepage.
Step 2: You can see a list of currencies the website offers. Select the one you wish to use.
Step 3: Choose payment method from the given options. Yes, you can also deposit through Bitcoin and PayPal!
Step 4: Type in the amount that you need to deposit. The money will be transferred in an instant. The time depends on the bank from where you make the transfer. If you deposit via bank transfer, it will take up to 48 hours to reflect the amount in your account.
The minimum deposit amount that Rivalry eSports betting permits is $15. The maximum limit is set at $100 for unverified users, $1000 for verified users, and $10,000 for enhanced users.
While many bettors offer multiple payment methods, withdrawal options are a completely different story. However, we are happy to report that Rivalry eSports provides an equal and viable solution. Users using the deposit methods will be glad to know that the withdrawal options are identical.
Withdrawal methods are:
Bitcoin
Skrill
GCash
PayPal
Visa
Master Card
Bank transfer
Interac
Moreover, you do not have to make extra payments, as Rivalry does not charge withdrawal fees!
The bookmaker processes withdrawals within 24 hours from the time you put in the request. For payment methods using credit cards and E-wallet options like ecoPayz and Skrill, the withdrawal period after the withdrawal request takes an instant. Bank transfers require up to three days to reflect in your account, depending on the bank.
As a safety step, making a withdrawal requires a verification procedure. The steps to verify your identity are as follows:
Step 1: Go to the "withdraw" section and select the "Upgrade" option.
Step 2: You will need to take a selfie. You need to ensure clear pictures and rotate your head to help the application capture your face. A pop-up prompt will request permission for the site to access your device's camera.
Step 3: You must upload documents enabling the sportsbook to confirm and verify your identity. You can choose your passport, ID card, driver's license, or residence permit.
Step 4: After completing the process, opt for the "Submit Documents" option. The documents will get reviewed by the customer support team. Within 24 hours, you will receive an alert regarding the status of the funds in your account.
Rivalry Customer Support
Regarding customer support, few bookmakers go as much as Rivalry. The website provides a customer support feature for live chat. You can use the chat option for the response time, typically under five minutes. You can also check out the FAQ page broken into sections dealing with various commonly-asked queries.
The support team provides prompt solutions on the 24/7. You can also contact the support team through email or phone. Here are the options to contact Rivalry if you face any issues on the site or have any questions:
Live chat available 24/7
Email: [email protected]
Phone: +442039661374
Support languages: English
Twitter: @RivalryGLHF
Good customer support trumps all, no matter how many attractive bonuses an eSports betting site provides. Not even the best odds will be good enough without the choice of getting help if you are stuck when trying to place a bet. Our reviewers meticulously check this service to determine whether the brand will work for you.
Reliability and Security of Rivalry Bookmaker
The safety and security should be any reviewer's number one priority, as it is ours. Here is the good news: Rivalry received licensing from the Isle of Man and can legally pursue trade in Australia by the Northern Territory Racing Commission. Responsible gambling policies are entirely up to date. With top-notch SSL encryption, your data will be completely safe from any prying eyes.
Is Rivalry legit to bet on?
Our reviewers have seen that Rivalry is entirely legit. You are safe to place bets and make transactions to and from your account.
Registration and Login
Follow these steps to get a Rivalry profile and start betting for real money:
Visit the rivalry.com site on your preferred browser engine.
Select the "Sign Up" orange button at the top of the screen.
Provide an email address you use regularly.
Create a password and click on "Go."
Open your email and click on the link to verify your account.
Once live, you can deposit money into your account by visiting the "deposit" page. Choose the amount of money you want to deposit and select your preferred payment method. You are good to go!
You can now access Rivalry for betting online. You do not need any Rivalry sign up code to create and register your account on the website. All you need to do to log in is open the site, hit the log-in button, and provide your email and password.
Our verdict about Rivalry bookmaker

Register here
Rivalry is a betting site with a lot of eSports games. You can safely bet here and expect market-level odds. Sports betting and casino games are also available at the bookmaker, but this platform is known specifically for eSports. Although some things go unnoticed, Rivalry.com has clearly shown itself to be one of the leading services capable of destroying its rivals!